A Clinic for High School Coaches Given by High School Coaches
30801 Beck Road, Bulverde, Texas 78163
Phone & Fax: 830-438-5360
coachesclinic@yahoo.com
The 19th annual
DFW Coaches Clinic
" Featuring only high school coaches as speakers."
takes place
January 27-29, 2017
Important Announcement!
Due to renovations at the DFW Airport Embassy Suites, the 2017 clinic will take place at
The Westin DFW Airport Hotel, 4545 West John Carpenter Freeway, Irving, Texas 76053
The Westin will provide a cooked to order breakfast and Happy Hour each day to every coach staying in the hotel!
Room rate is $149
To Make a reservation, please call 972-929-4500 or click the link below

DFW Coaches Clinic is proud to announce that
Children's Health Andrews Institute - Orthopaedics & Sports Medicine
is on our Title Sponsorhip Team! (Children's Health Andrews Institute)
On Saturday, January 28, the DFW Coaches Clinic (The Westin DFW Airport Hotel) will offer a FREE lecture and panel discussion for Athletic Trainers. The focus will center on concussions and will be led by Scott Burkhart (PhD), Troy Smurawa (MD), and Jeff Baggett (ATC). These gentlemen are experts from the Andrews Institute. The lecture will be from 10:00am to 11:00am, with a panel discussion to immediately follow. This is an opportunity for Athletic Trainers to earn 2 CEUís for licensed athletic trainers in the State of Texas. To RSVP, please immediately e-mail your name and school to kris.cumnock@ppi-staubach.com
Rob Davies with the Tom Brady Signed Helmet and Jim Waters with the replica Lombardi Trophy signed by Roger Staubach!
Both provided by Children's Health Andrews Institute - Orthopaedics & Sports Medicine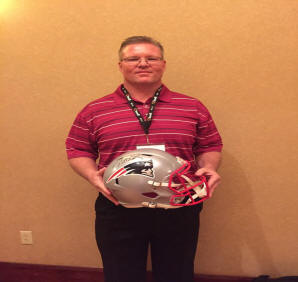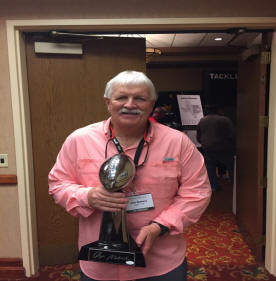 The clinic will be held at the Westin DFW Airport Hotel in Grapevine. The Performance Course will supply a t-shirt to the first 800 coaches in attendance! Profit Plus will provide a clinic mug to the first 700 coaches in attendance! Job Board available. FCA Lecture on Saturday morning. Meal and Social on Friday night - Sponsored by The Performance Course and Hellas Construction! 15% discount to Bass Pro Shops for each coach at the clinic! Texas Hold-Em Tournament on Friday night!
Updated Speaker List Now Available
For additional information, please contact us at coachesclinic@yahoo.com
2016 Clinic Highlights
| | |
| --- | --- |
| $1000 Winner Tim Baker of Eaton HS with Clinic Director Bob Ledbetter Lake Picachos Fishing Trip Winner Carl Abseck of Cedar Ridge with John Speed | |
| | |
| | |
| --- | --- |
| Mike Spradlin of Temple in a packed lecture Friday Afternoon Rodney Webb of Rockwall talking Offense Saturday Morning | |
| | |
| | |
Look at these great door prizes that will be given away after each lecture on Sunday!
$1000 cash after the last Sunday lecture
$100 cash after the first 3 Sunday lectures
Bass Pro Shops Merchandise
Lake Picachos Guided Fishing Trip with Jon Speed
Dick's Sporting Goods Gift Certificates
DFW Coaches Clinic Gear
And More!
Thanks go to our sponsors:
Excited to announce that SSR Letter Jackets has joined our sponsorship team!
The Performance Course, Children's Health Andrews Institute, Adrenaline Fundraising, Hellas Construction, SSR Letter Jackets, Ram Trucks, Sam Pack's Five Star Ford, Barefoot Athletics, Profit Plus, Dick's Sporting Goods, Xenith, Bass Pro Shops Outdoor World & CoachComm.
All coaches, their immediate family, or their players (of legal age) are eligible to receive Corporate Discounted Pricing on New Vehicles, Sam Pack Employee Pricing on Used Cars, and discounts in Service, Parts, Aftermarket, and Free Rental Cars IF the vehicle is purchased through our Corporate Benefits Management Team.
Go to http://www.5starfordcnp.com/ for more information!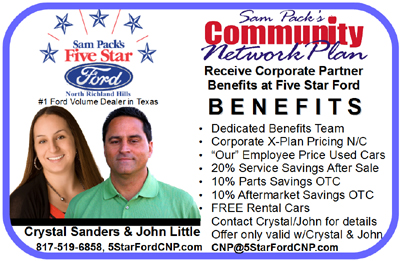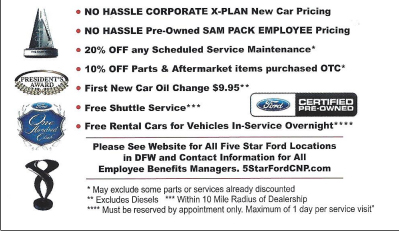 The Biggest High School Only Football Clinic in TEXAS!
Revised 01/19/17
Follow Us On Facebook & Twitter (@dfwclinic)
DFW Coaches Clinic Privacy Policy